Since the call of the Technology Transfer and Promotion Division (TTPD) of the Philippine Council for Agriculture, Aquatic and Natural Resources Research and Development (PCAARRD) on April 2, 2020 of all ATBIs for a relief effort to help incubatees who are affected by the Covid-19, the LSPU AATBI has responded and started its coordination to concerned individuals. On April 29, 2020, the LSPU AATBI team headed by Dr. Corazon N. San Agustin, Vice President, Research Development & Extension; LSPU Relief Task Force; representatives from two farm partners; and some members of LGUs conducted the relief operation in six towns of Laguna, namely: Mabitac, Siniloan, Pangil, Sta. Cruz, Lumban, and Los Baňos.
In Mabitac, Mr. Romeo Alarde, Municipal Administrator acknowledged receipt of goods from AATBI that were distributed in five barangays of the town and frontliners in Laguna. In Pangil, Hon. Alegria S. Tena, Barangay Captain of Sulib, was one of the frontliners in distributing the relief goods in the said barangay, together with the project team and Ms. Sahly Mojado, owner of the Matt and Kayla Family Farm.
Engr. Isabelita Domingo, AATBI Project Leader, headed the distribution of 2,120 fruiting bags to six beneficiaries who are incubatees of the project that need assistance to start their mushroom business. The fruiting bags were purchased from an in-wall incubatee and some were outsourced from another producer. This sub-project will serve as an ongoing relief effort of AATBI to help Covid-19 affected communities. On the partnership guidelines, half of the harvest of the incubatees in this mushroom project will be donated in their identified barangays. This would mean distribution of fresh oyster mushrooms as relief until August 2020.
The activity was made possible through the support of Dr. Mario R. Briones, University President; Engr. Joseph M. Cabiente, Campus Director; Ms. Marie Ammabelle I. Cabildo, Director-Budget & Finance Services; Dr. Editha R. Perey, Research Director; Mr. Jefferson Viterbo Valdenarro, Ms. Yolanda Pedrigal, Nurse Gelyn Portia, Mr. Felix Rejalde; Ms. Sahly Mojado, owner of Matt N' Kayla Farm & Mr. And Mrs. Ador & Teresita Sanchez, owners of Adoress Farm.
The LSPU AATBI Team, Engr. Isabelita T. Domingo, Project Leader, Ms. Mary Ann L. Barile, Project Manager; Dr. Corazon N. San Agustin, VP of RDE, Renie Rose V. Relativo and Jethro L. Sanchez, Project Assistants, had planned and coordinated the said relief operation. - By: MLBarile & RR Relativo
DOST-PCAARRD-LSPU-AATBI RELIEF OPERATION TEAM, PANGIL, LAGUNA
The Relief Team members met with private partner, Ms. Sahly Mojado of Matt N' Kayla Farm, source of goat meat, kangkong, sitaw, and quail eggs in Brgy. Sulib checkpoint.
RELIEF PACKS
These are the relief food packs to be distributed for 50 Families in Brgy. Sulib, Pangil Laguna.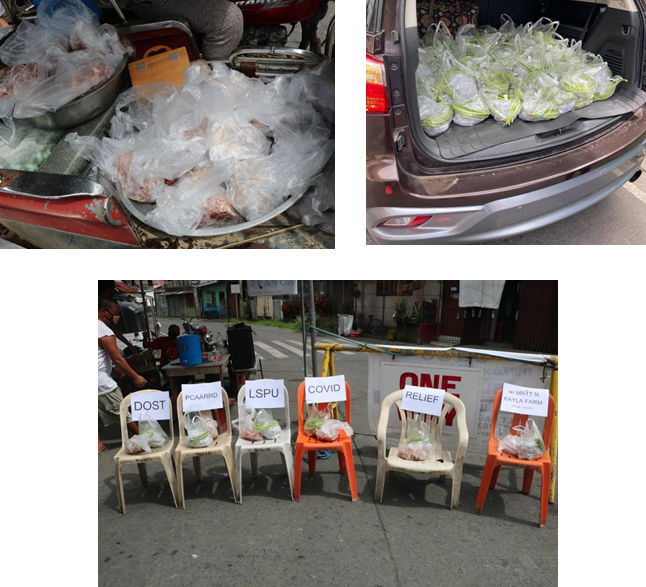 DISTRIBUTION OF RELIEF PACKS IN PANGIL, LAGUNA
Coordinated efforts of AATBI Relief Team Members, Incubatee Mrs. Sahly Mojado and Brgy. Captain Alegria S. Tena of Brgy. Sulib, Pangil, Laguna.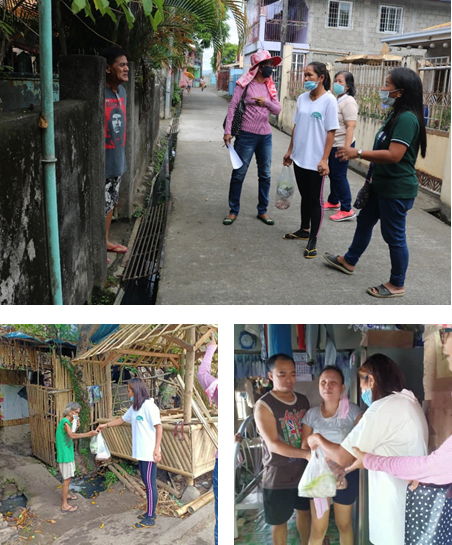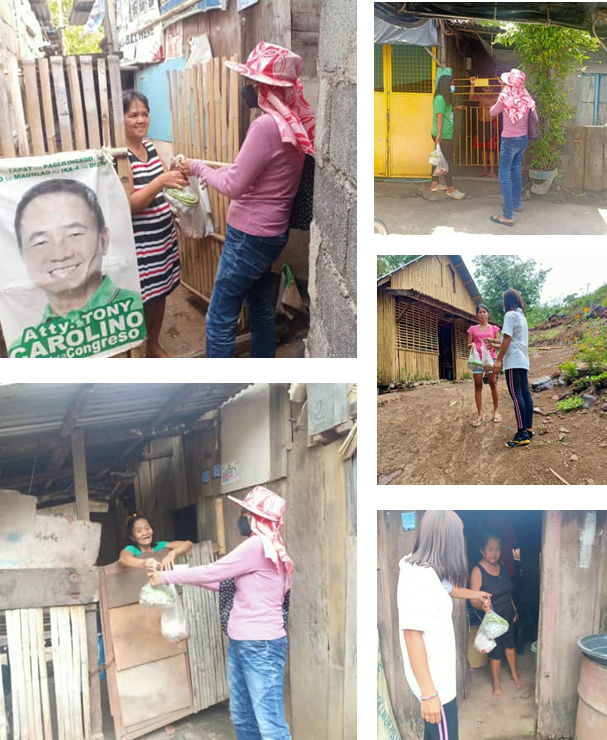 Matt N' Kayla Farm pick up of Mushroom Fruiting bags to be awarded to Ms. Maricel Retuerma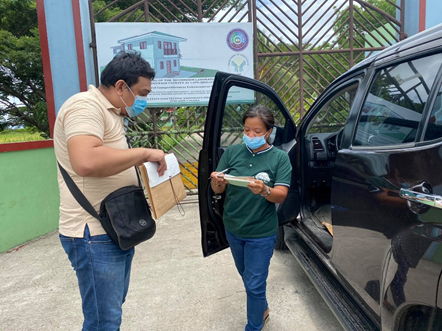 Mr. Jefferson Valdenarro from LSPU Supply Office pays Ms. Sally Mojado of Matt N' Kayla Farm for the goat meat and quail eggs. The latter's counterpart in the relief are the vegetables.
DOST-PCAARRD-LSPU-AATBI RELIEF OPERATION TEAM, MABITAC, LAGUNA
Mr. Romeo Alarde, Municipal Administrator of Mabitac representing Mayor Ronald I. Sana acknowledges receipt of relief goods from AATBI, produce of the Adoress Farm.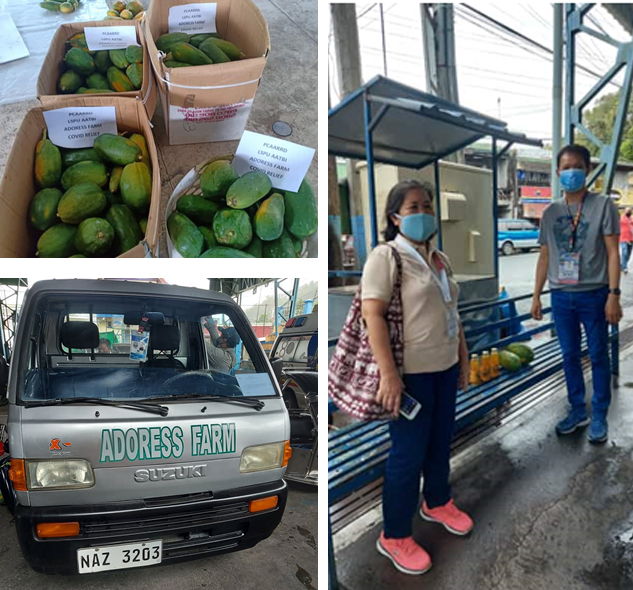 Arrival in Municipality of Mabitac, Laguna with COVID Relief Team Members and Mr. Adonis Sanchez of Adores Farm. They brought agricultural goods to distribute as relief for the families of Mabitac, Laguna.

DISTRIBUTION OF PAPAYA IN FIVE (5) BARANGAYS OF MABITAC, LAGUNA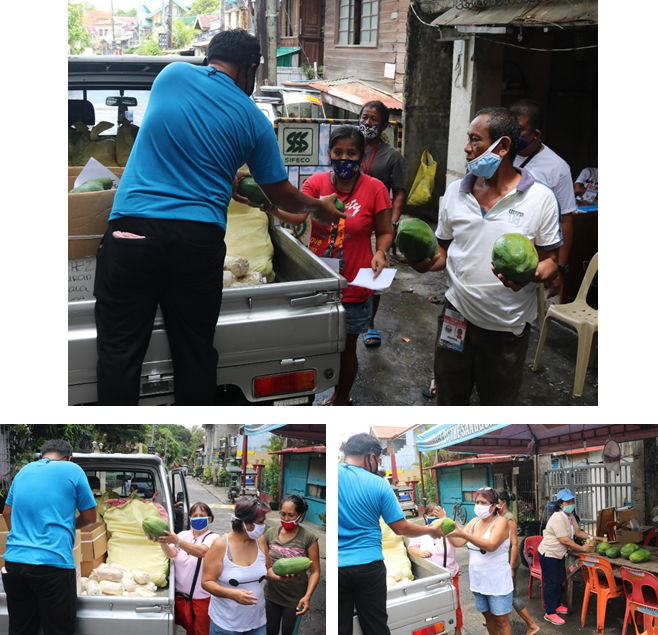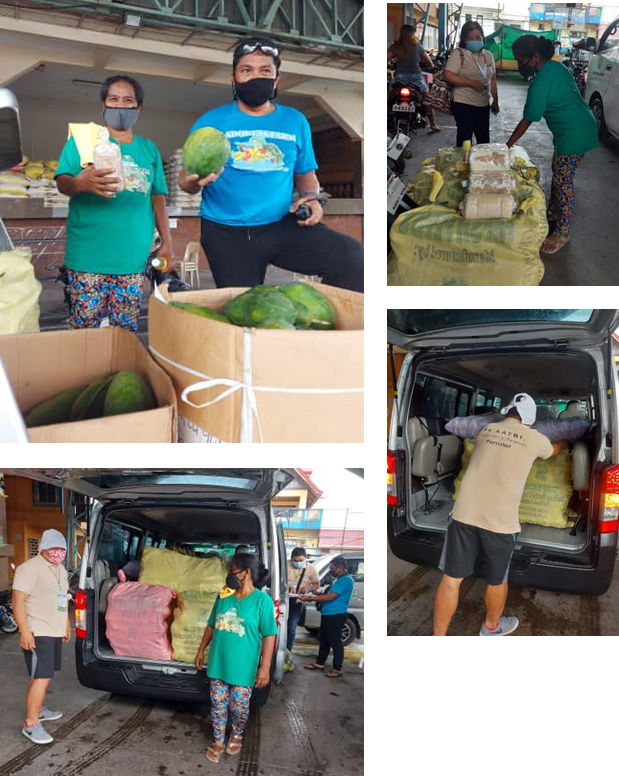 Awarding of Mushroom Fruiting Bags to Ms. Marita L. Manalo, incubatee from Adoress Farm, Mabitac, Laguna
AWARDEES OF MUSHROOM FRUITING BAGS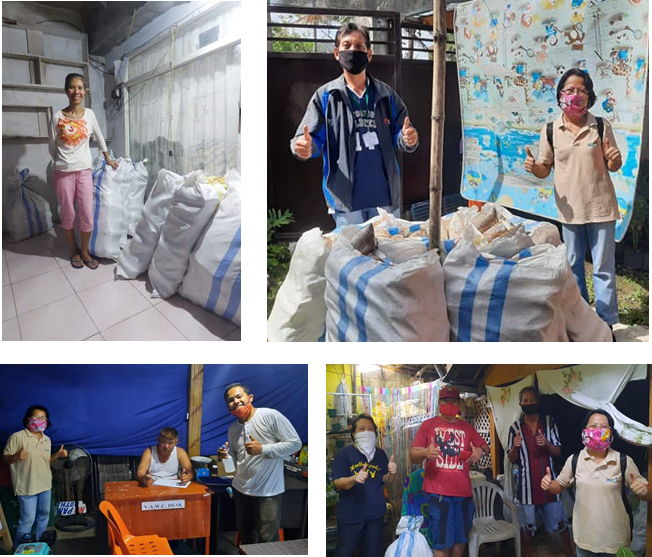 Mrs. Victoria Bandillo, Incubatee from Santa Cruz, Laguna | Ms. Maryvie San Agustin, Incubatee from Siniloan, Laguna | Mr. Leorico Llamas, Incubatee from Los Baños, Laguna | Prospero Sabido III, Incubatee from Lumban, Laguna
RELIEF GOODS FOR FRONTLINERS AT CHECKPOINTS