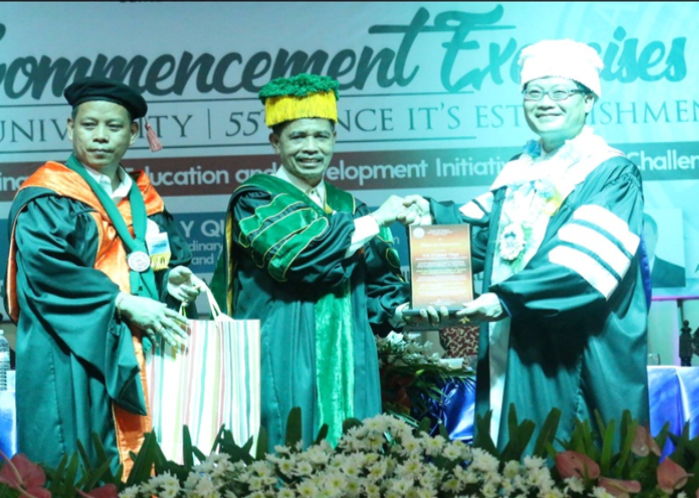 Laguna State Polytechnic University held its annual Academic Yearend Commencement Exercises with the theme, LSPU: Sustaining Quality Education and Development Initiatives amidst Challenges.
The Graduation Ceremonies for Graduate School & Applied Research and College students, Senior High School, and Elementary students were conducted on different days from the last week of May to the 2nd week of June 2018. Dr. Nestor M. de Vera, the University President invited prominent successful distinguished Guests of Honor and Speakers who inspired the graduates, at the same time added honor and significance to the Affairs. Hon. Senator Grace L. Poe, Senate of the Philippines graced Los Banos Campus Graduation Ceremonies on May 31, 2018 and delivered inspiring message to some 876 graduates; Hon. Benjamin C. Agarao, Jr., Congressman, 4th District of Laguna addressed 1,045 Siniloan Campus graduates on June 6, 2018; Hon. Isaias B. Ubana II, Board Member 4th District of Quezon Province heartened the graduates of Lopez, Quezon Campus on June 8, 2018; and H.E. Ly Quoc Tuan, Viet Nam Ambassador to the Philippines spoke before 2,132 Sta. Cruz campus graduates on June 13, 2018. Likewise, one thousand nine hundred forty-eight graduates of San Pablo City Campus, clothed in the same black academic gowns and gleaming smiles were confirmed graduates on June 11, 2018.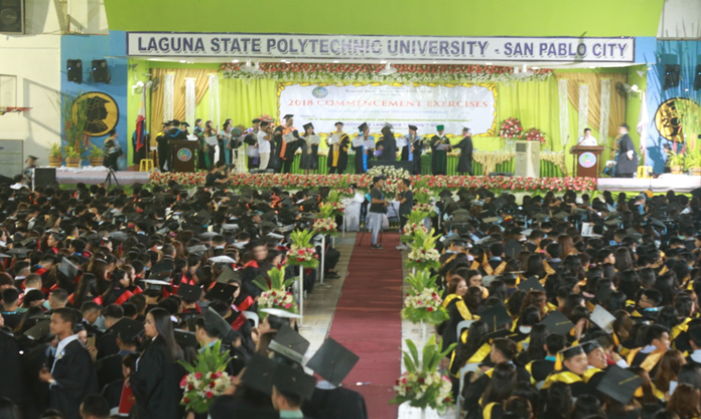 All the Commencement Speakers expressed pleasures standing before the LSPU crowd in the special occasion of the graduates' pursuit of knowledge and wisdom. They also recognized the significant roles played by the parents and the University in this milestone of the students' life. In addition, Hon. Grace Poe acknowledged marginalized students who hurdled education requirements & conferred the degrees they merited. She underscored the relation between good values and virtues and success in her sharing of anecdotes. Cong. Benjamin Agarao concluded his inspirational speech with a promise to help LSPU and confirmed provision of a budget for the College of Teacher Education two-storey classrooms and a five million budget for LSPU oval field. H.E. Ly Quoc Tuan affirmed the graduates that they are now a part of the Philippine fast growing economy & will record an active contribution to its continuous dynamic development, peace, stability, and prosperity.
He encouraged them to contribute to the strengthening of the strategic partnership between Philippines and Viet Nam, too.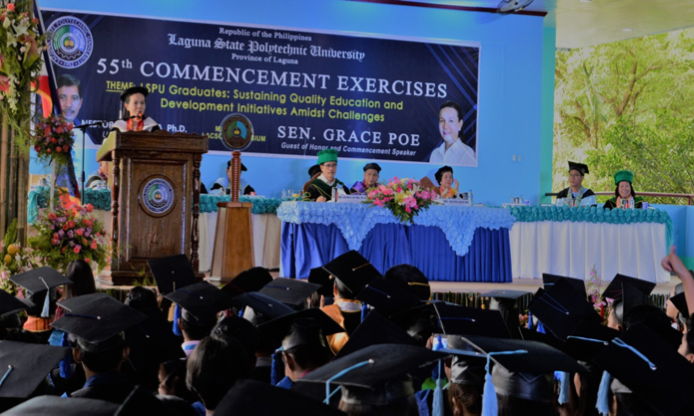 The Graduation Ceremonies for the four campuses' elementary and senior high school students was held on May 25, 2018 at the Sta. Cruz Campus Multipurpose Gymnasium and Hall; whereas the Reserve Officer Training Course (ROTC) was held on May 21, 2018 and Civil Welfare Training Service (CWTS) was held on May 23, 2018 in the same venue. Dr. Diosdado M. San Antonio, Director IV, DepEd Region IV-A CALABARZON graced the ceremony with his inspiring message which both enlightened and challenged the young graduates and their parents. Nevertheless, each campus' Recognition Day was held on specific date within the graduation period.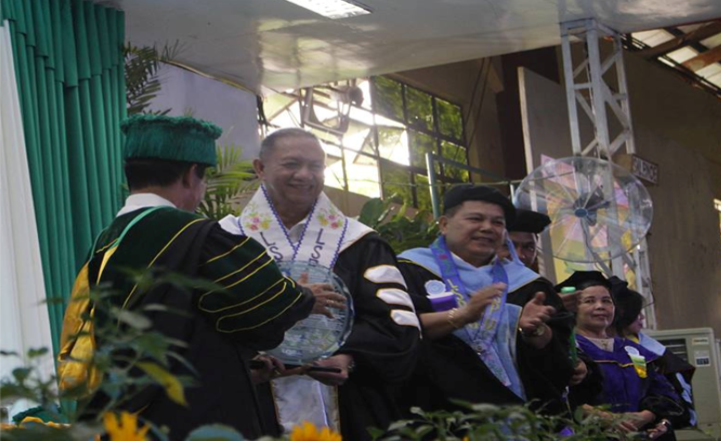 Thousands of distinguished guests and friends attended the ceremonies to share in the success of the awardees/achievers and graduates. The administration headed by the Hon. President, faculty, and staff of LSPU proudly congratulated them on their academic achievements and successful
graduation, and wished all of them success in their future careers. (ILA)