The Laguna State Polytechnic University Lakers, the reigning champions achieved the top spot for the second time, as the Over-all Champion in the recently concluded Southern Tagalog Regional Athletic State Universities and Colleges (STRASUC) Olympics. The LSPU athletes' bloodlessly effective defense and gigantic feat helped them retain the glory of being the STRASUC Olympics champions. This athletic 2019 was held, November 22-29, 2019 at Romblon State University, Romblon with the theme: "Strengthening Fellowship and Alliance through Sports".
The annual Regional Olympic event was participated by varsities from 12 SUCs listed according to rank: Cavite State University (CavSU), Laguna State Polytechnic University (LSPU), University of the Philippines Los Banos (UPLB), Batangas State University (BatSU), University of Rizal System (URS), Southern Luzon State University (SLSU), Western Philippine University (WPU), Rombon State University (RSU), Mindoro State College of Agriculture andTechnology (MinsCAT), Palawan State Univesity (PSU), Occidental Mindoro State University (OMSC), and Mindoro State College.
Winning in the STRASUC Championship is not easy; it is not just an exceptionally special achievement. when a Regional Championship is won twice, it is even better and harder. Often the incredible back-to-back, regional championship is a dream that hardly ever comes true. All this triumph should be credited to the University, athletes, and coaches of different sports; without them this would not be possible, the sports Director, Mr. Darwin D. Ofrin says (D. Wagan).
The following table shows the STRASUC Olympics 2019 official results: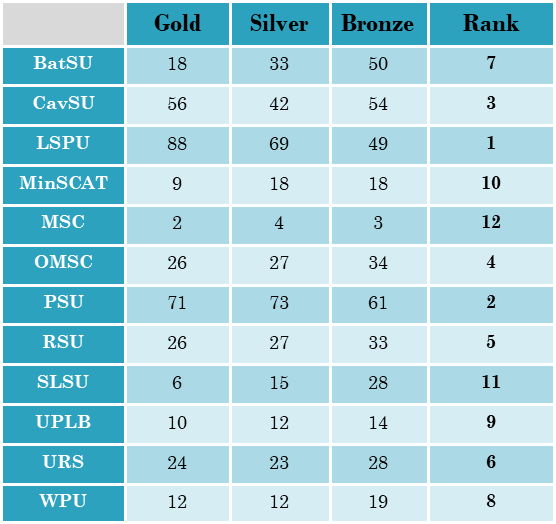 ---