1. Ferrous Cement
A 3000-L rainwater harvesting-storage tank system was constructed at Brgy. Kapatalan, Siniloan, Laguna in 2008. The project was constructed by Laguna State Polytechnic University (LSPU) faculty and students as part of their learning and extension activities. It was also a means of ferro cement technology transfer to students and local residents. The project was funded by the LSPU and the Kapatalan Barangay Council for Kapatalan residents, particularly the Kapatalan Elementary School (KES).

2. Briquetting Technology
Briquetting Technology is a technology-transfer training offered both by the Department of Social Welfare and Development (DSWD) and the Department of Agriculture under their program Cash for Training. The short-term training program was conducted by the Bachelor of Science in Agricultural Engineering at different areas in the province of Laguna on the year 2011.
The following were the titles of different training programs:
"Pag-uuling ng Ipa at Paggawa ng Briket" for Organic Farming Seminar at Tarita's Restaurant, Pangil, Laguna, November 23-25, 2011.
Charcoal Briquetting for Cash For Training to Siniloan Farmers and Fisherolks

Famy, Laguna, September 6, 2011.
Kapatalan, Siniloan, Laguna, August 15, 2011.
Siniloan Elementary School, Siniloan, Laguna, Augustg 14, 2011.
Sarap Buhay Resort, Siniloan, Laguna, February 4, 2011. Presentation to the Barangay Nutrition Scholars.

Briquetting Awareness for residents of Upland Barangays of Siniloan at Engineering Building, LSPU, Siniloan, Laguna, March 3, 2011, sponsored by the Siniloan Municipal Agriculture Office.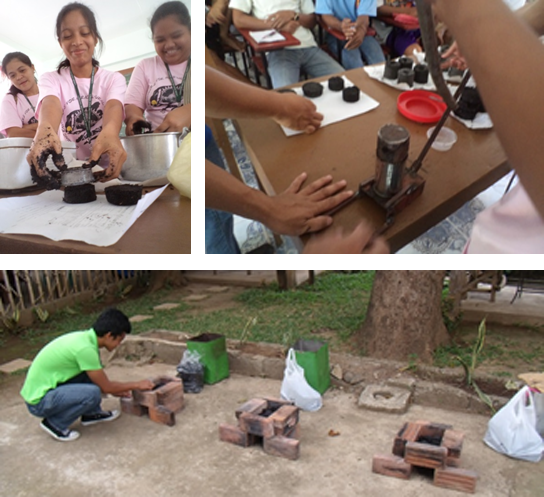 BSAE students demonstrating the preparation and utilization of briqquettes
3. Aerobic Rice Technology
A 3-day training activity intended to further develop the competencies of ART trainors in terms of enhancing the capabilities of prospective adaptors. It was conducted on the 2nd week of April, 2013 to provide ample preparation time to both BASC and LSPU. The aerobic rice farm was also established for seed production intended for distribution to upland farmers.

Art training and training kit
Extension and training services (On-going Programs)
Kaligtasan ng Kabundukan
Kaligtasan ng Kabundukan is an extension project of the Institute of Agricultural Engineering (IAE). It intends to save the upland or slope land areas from soil degradation and its dwellers from the pangs of poverty.
Projects under the "Kaligtasan" program
Salt
The extension project involves the application of Sloping Agricultural Land Technique (SALT). Salt is a simple, inexpensive and practical soil conservation scheme specifically developed for small-scale upland farmers. Enhanced with integrated diversified organic agriculture, its adoption would result to restoration of soil fertility and substantial benefits to marginalized upland families. They can conserve soil, reduce chemical inputs, increase their productivity, become generally self-sufficient and break out of the poverty cycle.
BSAE faculty, students and partners during the SALT training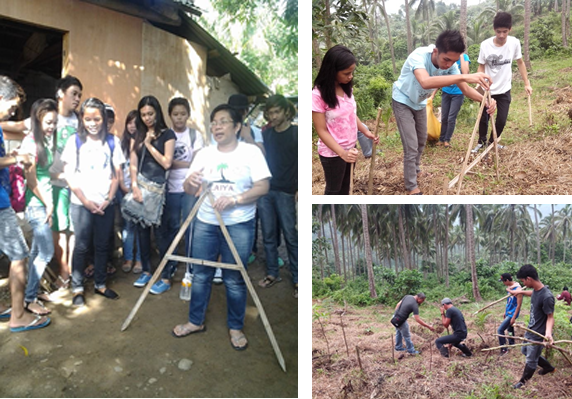 SALT Learning Site
SALT learning site has been established through Siniloan Water District (SIWADI) spearheaded by the General Manager, Engr. Isidoro V. Realeza, key officials and staff. This is where farmers are taught how to make an "A" frame and layout contour lines. This site also serves as a showcase of the technologies promoted by this extension service of the Institute.
Raising pigs the no smell ways
The Native Pig Dispersal Project is a simple agro-livestock technology project under the main program "Kaligtasan ng Kabundukan". To achieve best result of the project participants are required to undergo training activity under the project entitled "Raising Pigs the No Smell Way." Briefly, it teaches native pig dispersal beneficiaries how to combine organic crop production with native pig growing in an upland area. Focus is on controlling foul smell from the pigs.
Raising Pigs the No-smell Way training at Brgy. Kapatalan, Siniloan, Laguna
Beneficiaries carbonizing rice hull as bedding for their native pigs

2. Sagip Kabundukan, Sagip Kababayan – Sta Maria
Sagip Kabundukan, Sagip Kababayan is an extension service of the Institute of Agricultural Engineering that focuses on building the capacity of upland residents for weather risk management. The goal will be attained by offering technical assistance, and promoting risk mitigation techniques.
The town of Sta. Maria, Laguna has been described as vulnerable and exposed to disaster risks (Pati et al., 2014). The barangays at the foot of the mountain are found to have severe to extremely severe vulnerabilities to flooding. The upland areas, on the other report problems on soil erosion and degradation.
Marking the contours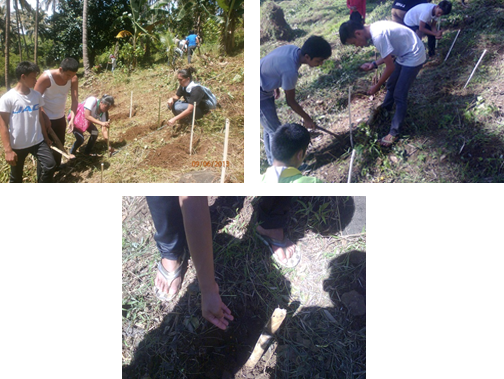 3. Sagip Kabundukan, Sagip Kababayan – Mabitac
The extension program will involve the application of char technology for soil and water conservation, and livelihood projects. The principles of Simple Agri-Livestock Technology (SALT 2), a variation of Sloping Agricultural Land Technique (SALT) will be applied.
Salt 2
As per date, initial level of project proposal has been accomplished. Immediate development of MOA will soon be accomplished in order to facilitate the program
Technology Transfer

Agricultural Training Institute, ATI activity program.
Formation of 4-H Club held at IAE which provides the youth with opportunities to learn by doing through individual, group or community projects. It instills in the youth the spirit of volunteerism, cooperation and dignity of labor. It also enables the youth to use their time, talents, and energy wisely.
Motto: Make the best better or "Ang magaling ay pagbubutihin pa."
Slogan: Learning by doing or "Matuto habang gumagawa".
4-H Club Pledge: I pledge
"My head to clearer thinking, My heart to greater loyalty
My hands to larger services and My health to better living."
New agricultural tools received by IAE 4H Club from DA.
Technology Updates for Agricultural Engineers cum TESDA NC II on Small Engines Assessment
The Training-Seminar is an offshoot of the needs assessment consultation called for in April 2016 by the Agricultural Training Institute (ATI) of DA through Mr. Franklin Bel T. Isip, the Region IV-A Planning Officer. Out of this consultation, a series of trainings was conceived, so that this seminar-workshop was planned and implemented with LSPU as partner agency.
Small engines National Certification Testing
Climate-smart Agriculture: Technology Updates and Challenges for Agricultural Engineers
Climate-smart Agriculture: Technology Updates and Challenges for Agricultural Engineers is a training-seminar conducted to keep agricultural engineers in CALABARZON abreast with the new technologies related to agricultural engineering. Dr. Sace of CLSU and Dr. Orge of PhilRice were invited to present hydroponics and capillarigaation, respectively.
The Climate-smart Agriculture training-seminar for agricultural engineers of CALABARZON
The Institute of Agricultural Engineering in collaboration with the Municipal's Agricultural Office of Mabitac conducted training on agricultural equipment specifically on mechanized rice transplanter. The activity was conducted at Barangay Pag-asa in the same municipality of Mabitac on March 10, 2017. Participants from the farmers group, and students from the 5th year class of Operations and Maintenance of Agricultural Equipment undergo an initial phase of training on actual transfer of seedlings with trays to pre-cultivated rice field before the actual transplanting activity.